Details
Gender: Female
Ethnicity: Australian
Age: 36
Height: 180cm
Body type: Slim
Hair colour: Brunette
Eye colour: Green
For up to date availability information please head to my website: www.aliceelle.com/bookings
| Day | From | Till |
| --- | --- | --- |
| Sunday | 8:00 AM | 11:00 PM |
| Monday | 8:00 AM | 11:00 PM |
| Tuesday | 8:00 AM | 11:00 PM |
| Wednesday | 8:00 AM | 11:00 PM |
| Thursday | 8:00 AM | 11:00 PM |
| Friday | 8:00 AM | 11:00 PM |
| Saturday | 8:00 AM | 11:00 PM |
About Alice Elle escort
I'm Alice Elle, a private escort based in Melbourne (Naarm), Victoria. I'm a tall, all-natural brunette with a body that has been described as an artwork. My long legs, ample breasts, perfect ass, and natural bush are just some of my memorable features. Folks have also described me as quick-witted, genuine, down-to-earth, and an outstanding kisser. It's the combination of these assets that will have me lingering on your mind well after we meet.
Amongst all my compliments - the one I love to hear again, and again is that my kindness makes people feel relaxed and at ease. My warmth is genuine, and abundant. In fact, the only thing I adore more than sex, is making space for people to comfortably explore their sexuality. To me, intimacy is about exploration and play; curiously exploring each other's minds, and bodies through a passionate exchange of conversation, and touch. I relish the opportunity to provide an experience where our imaginations can run wild, free from judgement. 
I thrive on building connections, so whether you're looking for a passionate fuck, an intimate cuddle, flirtatious banter, or everything at once; I'm a natural at satisfying your unique needs and desires. During our time together, you can expect a girlfriend experience with a naughty twist. I bring sensuality, and sincerity to each encounter as I believe happiness lies in living authentically and without shame. 
If you think we might enjoy one another, send me a request through my website. I'm always happy to answer polite, and respectful questions via text or email. For those who want to get to know me a little better before booking, I offer a 20-minute Zoom meet and greet. This is a great option for anyone feeling a little nervous.
I can't wait to learn all about you, 
Alice xx
Client types
males, females, non-binary, gnc, queer, couples, people with disability

Services offered by Alice Elle escort
Affectionate Kissing
BDSM
Blow Job
CBJ Only
COB
Companion
Couples
Cuddling and Affection
Deep Throat
Dirty Talk
Disabled Clients
Fetish
FFM
Foot Fetish
Kinky GFE
Kissing
Lesbian
Lingerie Requests
Massage
MMF
MSOG
Multiple Positions
Mutual Masturbation
Natural Bush Pubic Hair
Nipple Play
Oral on Me
Overnight Stays
Role Play
Sex Toys
Shower Together
Social Outings
Spanking
Strap On
Tie and Tease
Travel Companion
Watersports
Contact Alice Elle to organise a time to share an experience via:
Alice Elle escort rates
Incall
| Session | Cost | Description |
| --- | --- | --- |
| 1 hour | $550 | Full service |
| 2 hours | $1000 | Full service |
| 3 hours | $1400 | Full service |
| 4 hours | $1600 | Full service |
| 1 hour | $300 | Cuddle only session (see www.aliceelle.com/rates for more info) |
Outcall
| Session | Cost | Description |
| --- | --- | --- |
| 20 mins | $100 | A (virtual) get together, before we get together (see www.aliceelle.com/rates for more info) |
| 1 hour | $250 | Social only session (see www.aliceelle.com/rates for more info) |
| 1.5 hours | $850 | Full service - please note that this is my minimum booking time for full service outcall bookings |
Please see my website for more information.
Rates: www.aliceelle.com/rates
T&Cs: www.aliceelle.com/terms-conditions
Please contact Alice Elle - Escort | Melbourne Escort directly to book an appointment.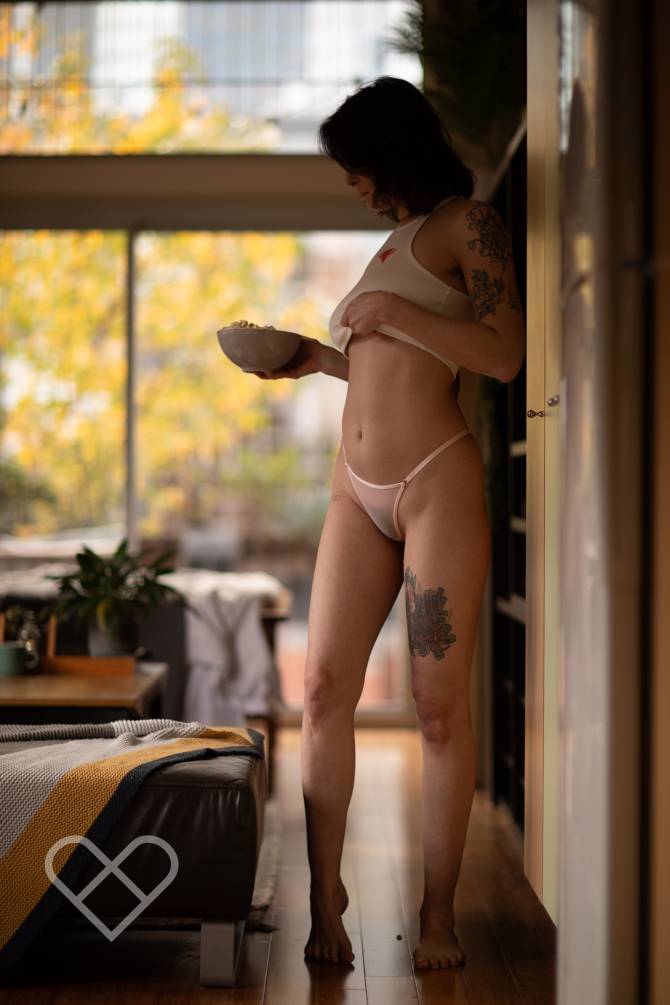 Reviews
Alice Elle has no reviews at this time.
If you've shared an experience with them why not...
Have you shared an experience with Alice Elle - Escort | Melbourne Escort? Leave a review.