Contact
Location: Sydney
Email: hello@uptonsydney.com
Phone: 0421097044
Please kindly text first introducing yourself, happy to chat after I've received your first sms.
Details
Gender: Female
Ethnicity: Australian
Age: 35
Height: 160cm
Body type: Petite
Hair colour: Blonde
Eye colour: Blue
| Day | From | Till |
| --- | --- | --- |
| Sunday | 10:30 AM | 10:30 PM |
| Monday | 10:30 AM | 10:30 PM |
| Tuesday | 10:30 AM | 10:30 PM |
| Wednesday | 12:00 AM | 10:30 PM |
| Thursday | 10:30 AM | 10:30 PM |
| Friday | 12:00 AM | 10:30 PM |
| Saturday | 10:30 AM | 10:30 PM |
 Find out when they're touring
 Receive updates and announcements from Ana Upton
About Ana Upton escort
ABOUT YOU
You're a great man.
Unique. One of kind quality in character. Too big a personality to feel locked in for long behind home's closed doors. You might be feeling wondrous, courageous or adventurous.
Perhaps, you're looking for a muse? A source of divine inspiration. One that will rekindle the drive you're missing, a jolt of electricity to awaken aspirations long since cast aside and ready to rediscover the intimacy you are looking for.
When you're feeling stuck in this similar rut, bored and in the mood for an adventure.
Why not shake free of the constant daily tasks and never-ending lists on your executive to-dos.
ABOUT ME
A whirlwind romance without the drama.
The world-renowned wanton woman for the elite is finally here.
If you're looking to add luxury to your life, Sydney's Ana Upton is a perfect choice for you.
She has years of experience in nurturing deep connections, she knows how to create beautiful spaces that put you immediately at ease and leave you breathless.
Ana is your next feel-good pleasure session and illustrious affair, effortless breathless and whispering scandalous in your ear. A tinderbox of pure delight! Feel the inner warmth build to peak meltdown heat, a comforting inferno against your skin.
Effortlessly glamorous.
A courtesan of consciousness.
Your scrumptiously sweet dessert to have as many helpings as you please. It's no secret, I crave the affection of a man who knows how to devour me.
So, please take your time, and prolong your feast with a pleasing tease.
I have a solution to your worries, a journey to enjoy just for you.
A hidden path, a discreet affair, a better place for you to choose. After all, when you are in wrapped up with a beautiful woman, what more could you desire?
Good things will rub off on you when you surround yourself with goodness.
Time with me is time well spent, and I am all about great value in everything I pursue.
I entertain lovers who take me to new heights of ecstasy, exploring every inch of my body with their hands, lips, and tongue. Leave no stone unturned, and I will lavish you with my attention, the most sensual and erotic pleasure you have ever experienced. So let's have some fun.
As a worldly and experienced woman, I know how to unleash your wild side and bring out those deepest, darkest desires you try to hide. I am not afraid to be assertive and take control, but I also know how to be gentle and tender when the mood strikes.
If you desire a confident, comfortable woman who knows how to touch and please you in every way. You have stopped on the right profile and today's your lucky day.
Remember, I'll send you back into the world a better man than before.
Ms Ana Upton.
Client types
Male, Couples and I love playing with other Escorts.
Services offered by Ana Upton escort
Affectionate Kissing
BDSM
Blow Job
Body Worship
Bondage
COB
Companion
Costumes
Cougar
Couples
Cuddling and Affection
Deep Throat
Dinner Date
Dirty Talk
Fetish
FFM
Foot Fetish
GFE Girlfriend Experience
Kinky GFE
Kissing
Lesbian
Lingerie Requests
Massage
Multiple Positions
Mutual Masturbation
Oral on Me
Overnight Stays
Rimming on Me
Role Play
Sex Toys
Shower Together
Social Outings
Spanking
Strap On
Tie and Tease
Travel Companion
Contact Ana Upton to organise a time to share an experience via:
Ana Upton escort rates
Incall
| Session | Cost | Description |
| --- | --- | --- |
| 1 hour | $700 | GFE |
| 90 mins | $1000 | Luxury GFE |
| 2 Hrs | $1300 | Luxury GFE |
| 3 Hours | $1800 | Luxury GFE |
| 6 Hours | $3000 | Luxury GFE |
| 12 hours | $5000 | Luxury GFE |
Outcall
| Session | Cost | Description |
| --- | --- | --- |
| 24 Hours | $7500 | Luxury GFE |
| 4 Hours | $2200 | Dinner Date (2hr dinner + 2 hr Play) |
| 6 hours | $3000 | Dinner Date (3 hr dinner + 3 hr Play |
| 6-24hours | $POA | Fly Me To You |
Please contact Ana Upton - Escort | Sydney directly to book an appointment.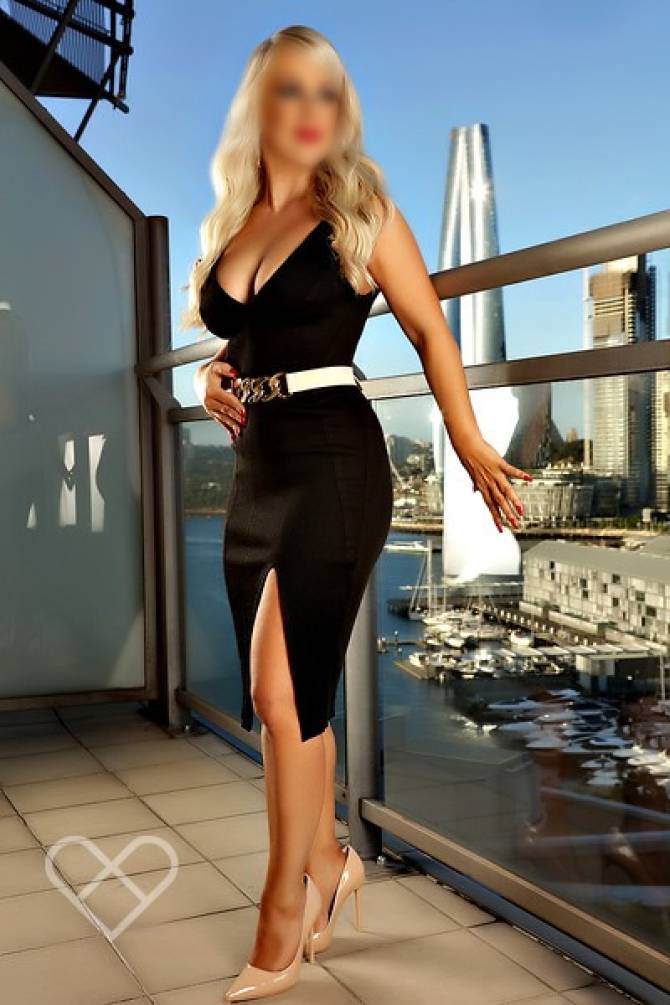 Reviews
Ana Upton has no reviews at this time.
If you've shared an experience with them why not...
Have you shared an experience with Ana Upton - Escort | Sydney? Leave a review.