Details
Gender: Female
Ethnicity: British
Age: 43
Height: 171cm
Body type: Busty
Hair colour: Brunette
Eye colour: Green
By appointment only. Minimum 24 hour's notice required.
| Day | From | Till |
| --- | --- | --- |
| Sunday | 12:00 AM | 11:59 PM |
| Monday | 12:00 AM | 11:59 PM |
| Tuesday | 12:00 AM | 11:59 PM |
| Wednesday | 12:00 AM | 11:59 PM |
| Thursday | 12:00 AM | 11:59 PM |
| Friday | 12:00 AM | 11:59 PM |
| Saturday | 12:00 AM | 11:59 PM |
About Carla Rinaldi escort
Stunning green eyes. Beautiful breasts. A smile that captivates. Silky long hair you will be dying to wrap around your hands, as I stare up into your eyes....
I am Carla Rinaldi, a one-of-a-kind companion, specialising in authentic, extended escapades. British born and educated, of Italian heritage, I am a well-spoken, olive skinned, shapely brunette. I am genuinely focused on your pleasure and want to get to know the real you, your thoughts and innermost desires.
I am a low volume companion, as I value quality over quantity and prioritise longer engagements. In any given month I bestow my charms only on a select few :) In the day I am sometimes occupied by more cerebral affairs. Professionally employed as a consultant, I often work for big corporates around town and on the surface present as any other alluring senior female you might cross paths with.
As a high-end companion, my manners and libido are evenly matched. As an empath and keen conversationist, nothing turns me on more than intellect, kindness and courtesy. I love getting to know new people and for me, Champagne at the bar and great conversation as foreplay, followed by a retreat to your boudoir make the perfect evening.
Attracted to both women and men from my teenage years, I have the skills and experience to satisfy your deepest desires. Couples are my not-so-secret delight and many years of playing in threesomes let me know when to direct and when to take a more supporting role. The many testimonials left by happy couples (and singles!) attest to my skills. Do peruse them at your leisure.
Educated overseas at an exclusive private girls' school I most certainly know how to behave in polite company. Yes, I learnt Latin. Indeed we focused on the 'Classics'. It was a very traditional education. I am happy to regale you with stories over dinner about our high jinks in the dormitories that will make your hair stand on end! And yes, it is really true what they say about good girls gone bad :P
Despite my professional corporate persona, behind closed doors I am anything but shy. Sexually, I usually take the lead and am well versed in all manner of kink and fetish play. My repertoire is extensive and I particularly love group play. I have handsome hung hunks and sexy bi babes I love playing with. Just ask and I'll organise playmates for an evening of carnal delights, for our mutual pleasure.
I escort because I want to, as my companion escapades assuage my wild, intense desires that are left unsatiated by my daytime pursuits. As a result, I am enthusiastic, highly motivated and totally focused on giving you an evening to remember. I welcome all genders, races, ages and physical abilities.
Ladies, couples and of course, discerning gentlemen, if you are nervous as you feel old, out of shape or physically unattractive, please don't stress about it. I don't concern myself with yourappearance. If you are clean and respectful, we will have a fabulous time together! I am attracted to kindness, intellect, compassion and generosity of spirit. I am not concerned with ridiculous societal beauty ideals; I want to connect with the essence of YOU!
My preference is for longer engagements (flirtation and connection begin before hitting the sheets), and my pricing reflects this. Bookings of three plus hours that are pre-paid in full have the option of receiving a pre-payment discount.
At heart, I believe in the following: communication without the need for fibs, laughter without censure and wonderful physical connection. I hope that my honesty puts you at ease; please relax, you are in safe hands with someone as experienced and committed to my career in this industry as I am.
Message me now so we can curate our first moment of personal indulgence!!
With affection,
Carla xxx
Client types
Women, men, couples, trans & non-binary

Services offered by Carla Rinaldi escort
Affectionate Kissing
Anal
Anal Play
BBBJ
BDSM
Blow Job
Body Worship
Bondage
CIM
CIM Swallow
COB
COF
Companion
Cougar
Couples
Cuddling and Affection
Deep Throat
Dinner Date
Dirty Talk
Disabled Clients
Female Domination
Fetish
FFM
Foot Fetish
Kinky GFE
Kissing
Lesbian
Lingerie Requests
MMF
MSOG
Multiple Positions
Mutual Masturbation
Oral on Me
Overnight Stays
Rimming on Me
Role Play
Sex Toys
Social Outings
Strap On
Tie and Tease
Travel Companion
Watersports
Contact Carla Rinaldi to organise a time to share an experience via:
Carla Rinaldi escort rates
Outcall
| Session | Cost | Description |
| --- | --- | --- |
| 1 hr, Carla the Love | $850 | 1 hr - Carla the Kinkster + travel |
| 5 hrs | $2100 | Dinner date - Carla the Lover |
| 5 hrs | $2600 | Dinner date - Carla the Kinkster |
| 14 hrs | $4000 | Overnight - Carla the Lover |
| 14 hrs | $5000 | Overnight - Carla the Kinkster |
| 24 hrs | $5500 | Day and night - Carla the Lover |
| 24 hrs | $6500 | Day and night - Carla the Kinkster |
Additional hours are $600 Carla the Lover and $800 Carla the Kinkster.
Please contact Carla Rinaldi - Escort | Melbourne Escort directly to book an appointment.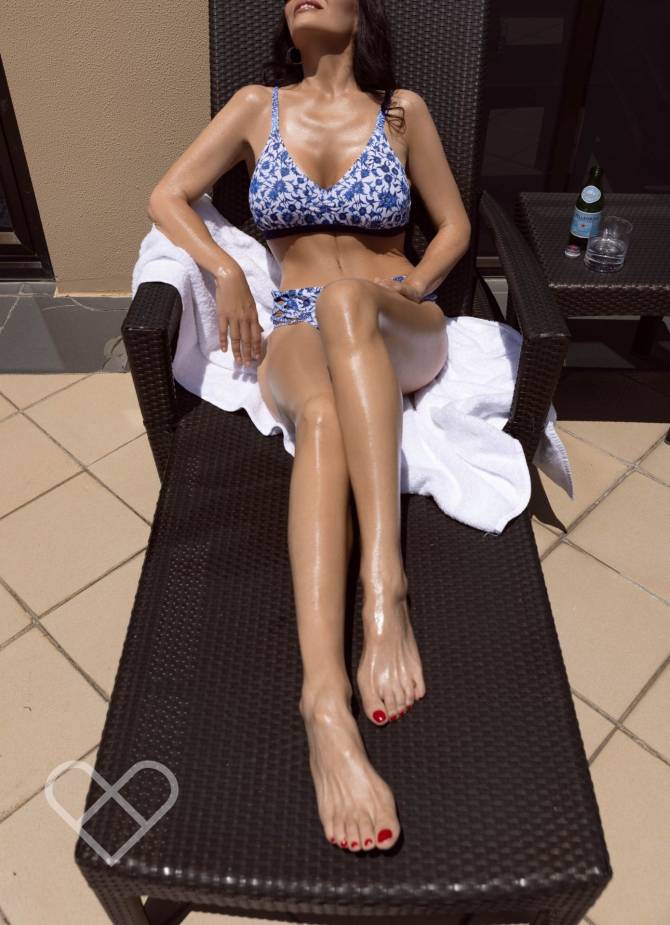 Reviews
Carla Rinaldi has no reviews at this time.
If you've shared an experience with them why not...
Have you shared an experience with Carla Rinaldi - Escort | Melbourne Escort? Leave a review.