Details
Gender: Female
Age: 32
Height: 170cm
Body type: Busty
Hair colour: Blonde
Eye colour: Blue
My schedule is mercurial and flexible, which means that though I am theoretically available on every day of the week, my calendar fills quickly with other activities. Advance booking only. x
| Day | From | Till |
| --- | --- | --- |
| Sunday | 2:00 PM | 11:59 PM |
| Monday | 12:00 AM | 11:59 PM |
| Tuesday | 12:00 AM | 11:59 PM |
| Wednesday | 12:00 AM | 11:59 PM |
| Thursday | 12:00 AM | 11:59 PM |
| Friday | 12:00 AM | 11:59 PM |
| Saturday | 12:00 AM | 11:59 PM |
 Find out when they're touring
 Receive updates and announcements from Isabelle Lynd
About Isabelle Lynd escort
*Listen to my interview on the SexyLove Project Podcast - Ep 06: Conversations with Isabelle Lynd!*
YOU: a discerning, hard-working gent in need of an escape with a passionate young woman (and her very cheeky grin).
ME: a natural seductress & intuitively sensual playmate, who looks innocent but plays naughty...
With the combination of bombshell blonde hair and blue eyes, soft curves made for grabbing, and luscious lips that are often up in a heart-stopping smile, past lovers have called me a classic beauty with a devious allure. My insatiable sexual appetite is instantly detectable in the way I grin and bite my lip upon seeing you...
I pride myself on providing a sensual, unrushed experience of pleasure - offering an adventure that is both naughty & nice, allowing us to simply follow our mood. Maybe we feel like a tender encounter of loving touches and warm cuddles. Maybe I just want you to spank me silly.
And if you're looking for something really new? Ask me about my Tantric packages - I've been practicing Tantra for three years and love to share my skills with the curious...
Though decidedly passionate, I am also an articulate and educated young woman who is not afraid to speak her mind. I'm fortunate enough to have received an international education, lived in 8 countries and visited 50+. Get me talking travel, and you'll never hear the end of it. Maybe you can guess where my accent is from?
Curious? Get in touch and let the fun begin!
xx Isabelle
Client types
Tried & true gentlemen and wonderful women of all races, ethnicities, religious beliefs, & physical abilities (disabled clients, you are so welcome to get in touch!). The only thing I discriminate on is age. You obviously have to be at least 18 ;)
Additional Information
Fly Me To You - POA
For the gent who knows what he wants, I'm more than happy to fly to your location for our tryst! Show off your city to me, or let me help you experience it in a whole new light. Fly Me To You bookings involve a minimum 3 hour date, plus travel expenses.
Extended Travel Dates - POA
Let's blow this popsicle stand! My wanderlust is insatiable and the fastest way to get me the most frisky is on international travel adventures. Sick of coming back to a lonely hotel room whilst you're on business trips? Let me fix you a cocktail and put a smile on your face when you get back from your meetings each day. Or maybe you're craving the most exciting and memorable holiday you've had in a while? Let's head off on an adventure! Travel dates are by far my favourite, and I can't wait to show you the thrills we'll have together.
Strictly Social - $350/hr
Sick of lonely lunches or dinners on your own? Curious to meet me over drinks before committing to private time together? Or maybe you need some eye-candy on your arm to show off at that business function, or keep family members from bothering you about your love life at the next holiday? I'm more than happy to meet for strictly social dates for the gent who wants companionship outside of the bedroom! I look cute in everything from an elegant dress at a charity function to jeans & a white tee at the footy ;)
OUTCALL DATES
All my rates are inclusive for outcalls within 15km of the CBD; for any outcalls further than 15km I ask a $100 travel fee.
Isabelle Lynd escort rates
Outcall
| Session | Cost | Description |
| --- | --- | --- |
| 1 hour | $600 | Just a taste, to whet our appetites... |
| 1.5 hours | $850 | Perfect getaway in between those business meetings |
| 2 hours | $1100 | An ideal first date for new lovers! |
| 3 hours | $1600 | 3 hours split between lunch or drinks in town & play |
| 4 hours | $2000 | 4 hours split between dinner in town & play |
| 6 hours | $2800 | 6 hours split between adventures & play - my fav for dinner & a show! |
| Overnight | $3500 | 15 hours of indulgence, minimum 6 of beauty sleep |
| Clockfree daytime | $3500 | An openended daylight adventure, for those who want a true GFE! |
| 24 hours | $5200 | A day and a night exploring the city...and each other... |
| Weekend | $8000 | 48 hours together. Let's make it a getaway to remember! |
| Couples | $800 | Fancy a playmate for the two of you? |
Please contact Isabelle Lynd - Escort | Melbourne directly to book an appointment.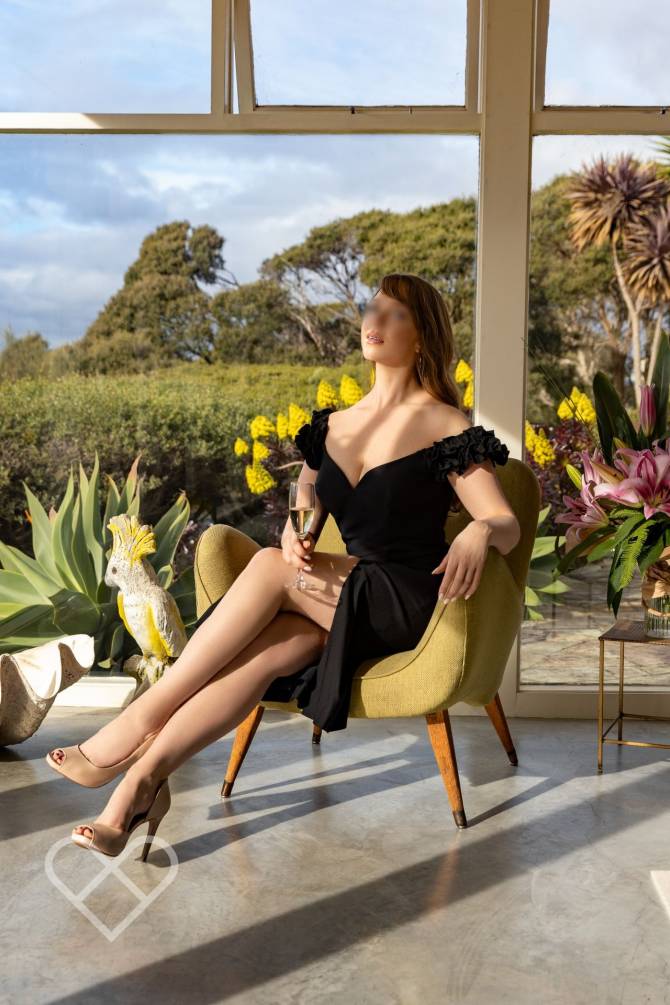 Reviews
Isabelle Lynd has no reviews at this time.
If you've shared an experience with them why not...
Have you shared an experience with Isabelle Lynd - Escort | Melbourne? Leave a review.