Contact
Location: Perth
Email: jamesonescort@gmail.com
Phone: 0404855270
I prefer text and will not answer calls for private numbers
Details
Gender: Male
Age: 28
Height: 181cm
Body type: Athletic
Hair colour: Brunette
Eye colour: Brown
| Day | From | Till |
| --- | --- | --- |
| Sunday | 9:00 AM | 12:00 AM |
| Monday | 6:00 PM | 12:00 AM |
| Tuesday | 5:00 PM | 12:00 AM |
| Wednesday | 12:00 AM | 12:00 AM |
| Thursday | 9:00 AM | 12:00 AM |
| Friday | 5:00 PM | 12:00 AM |
| Saturday | 9:00 AM | 3:00 PM |
 Find out when they're touring
 Receive updates and announcements from Jameson Scarlett
About Jameson Scarlett
I'm a genuinely bisexual male, perhaps that makes me "greedy" but I enjoy sharing love equally. I take all types of bookings; female, male, and couples. If it's just you, or you and your partner want to have some fun, let me know x
I come from a fitness background, and have developed an athletic, toned body.I have dark brown eyes that you will get lost in and a toned masculine chest. My dark brown hair is long and soft and my voice is just as soft. I enjoy talking about everyday life things and if all you want is someone to talk to I can offer a phonecall booking.
I offer a discreet service that promises to fulfill all of your desires. Whether you want a boyfriend experience or a pornstar feel, I am the perfect guy for the job. Regardless of the type of service you book, you will find that being held in my arms is a warm and comforting end to our time together.
Whether you would like to book me as a piece of arm candy to show off to your friends or family at that awkward event or you want a more intimate gathering, I can promise that you and your enjoyment will be my sole focus for the time we are together.
I am very easy going and love to get to know new people, so even if this is your first time, I can assure you that you will feel at ease around me. If we are going out for a date, I will be the perfect gentleman; and if we are going to a social event, everyone will love us.
All I ask of you is that you respect my 1 rule; I do not do anything unprotected.
When sending your enquiry, please include your name, the duration of the requested booking, the time and date and where we are meeting x
Client types
I see all types of clients

Services offered by Jameson Scarlett
Affectionate Kissing
Anal
Anal Play
Blow Job
Body Worship
Bondage
Companion
Costumes
Couples
Cuddling and Affection
Deep Throat
Dinner Date
Dirty Talk
Disabled Clients
Fetish
Findom
Foot Fetish
Kissing
Massage
Multiple Positions
Mutual Masturbation
Oral on Me
Overnight Stays
PSE Porn Star Experience
Role Play
Sex Toys
Shower Together
Social Outings
Spanking
Strip Tease
Tie and Tease
Travel Companion
Contact Jameson Scarlett to organise a time to share an experience via:
Rates – Outcall
| Session | Cost | Description |
| --- | --- | --- |
| 30 minutes | $250 | Explore Your Senses |
| 1 hour | $300 | Personal Encounter |
| 2 Hours | $550 | Perfect Dinner Date |
| 5 Hours | $1300 | Social Experience |
| 8 Hours | $2050 | The Jameson Experience |
All bookings require a 20% deposit.
This is to be paid via Beemit (contact me for the link).
Outside of the deposit, the remainder is to be paid IN CASH UPON ARRIVAL to the booking.
I am currently trialing a payment scheme where multiple hours booked incur a $50 discount per hour on top of the first.
Let me know how you like this x
Please contact Jameson Scarlett | Perth directly to book an appointment.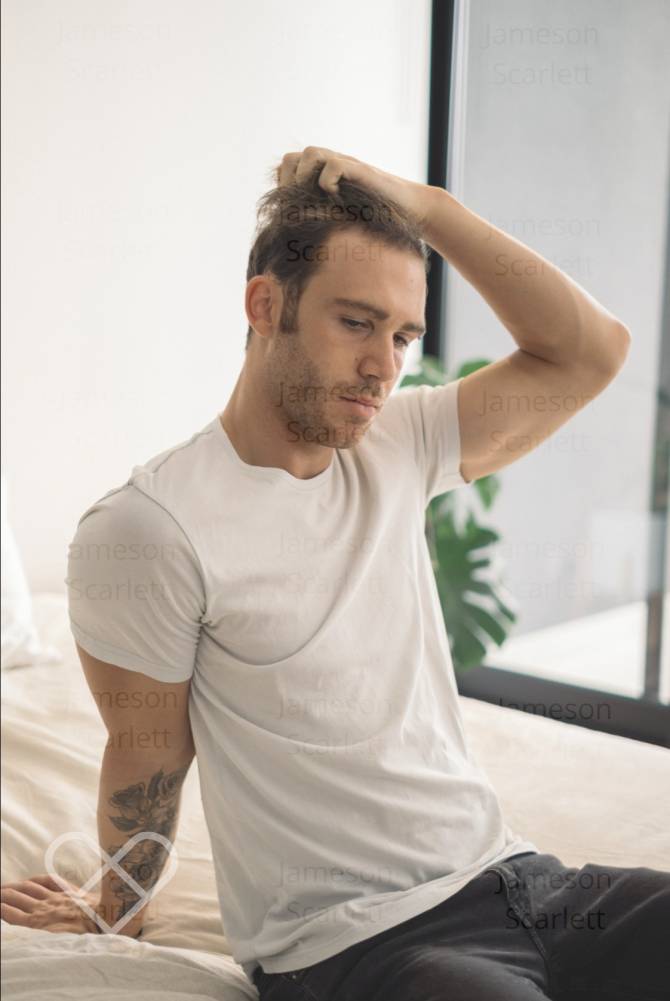 Reviews
Jameson Scarlett has no reviews at this time.
If you've shared an experience with them why not...
Have you shared an experience with Jameson Scarlett | Perth? Leave a review.