Contact
Location: Adelaide
Email: octaviaaabookings@outlook.com
Phone: 0481944301
i only accept contact through text message prior to deposits, this is due to the significant amount of time wasted on fake bookings and time wasters! calls automatically go to voicemail, and i dont listen to these either.
Details
Gender: Female
Height: 168cm
Body type: Curvy
Hair colour: Platinum Blonde
Eye colour: Blue
I work most evenings from around 9-10pm through to the early hours, in advanced it is possible to make a booking on any day of the week if the time availability is available!
| Day | From | Till |
| --- | --- | --- |
| Sunday | 9:00 PM | 6:00 AM |
| Monday | 9:00 PM | 4:00 AM |
| Tuesday | 9:00 PM | 4:00 AM |
| Wednesday | 12:00 AM | 11:59 PM |
| Thursday | 12:00 AM | 11:59 PM |
| Friday | 9:00 PM | 11:59 PM |
| Saturday | 9:00 PM | 6:00 AM |
 Find out when they're touring
 Receive updates and announcements from Octaviaaa
About Octaviaaa escort
Too Long? Didnt read? *bullet points for minimum effort required* scroll down for the low down xx
*NO INCALLS*
*PRIVATE NUMBERS ARE BLOCKED*
*NO NATURAL SEX*
*PAYMENT ON ARRIVAL, NO EXCUSES, I RESERVE THE RIGHT TO WALK OUT AND KEEP DEPOSIT*
*NO 15/30 MINUTE CALLS*
*NO MASSAGE SERVICE ONLY*
*REPEAT CLIENTS ARE NOT ENTITLED TO MATES RATES AND/OR DELAYED PAYMENT
*NO PRICE NEGOTIATION*
*BEING ATTRACTIVE/HAVING ABS DOESNT GIVE YOU DISCOUNT*
*NO DICK PICS*
*'HEY'' MESSAGES GET NO RESPONSE*
*RUDE OR VULGAR LANGUAGE INSTANT BLOCK*
*NO CAR SERVICE*
*NO DEPOSIT NO SECURE BOOKING* (instant payment methods only)
* PICTURES OF ''MONEY WAITING ON YOUR NEAREST TABLE DOESNT CONSTITUTE A SECURE BOOKING (You may ''not be'' that kind of guy, ''trustworthy'', ''money isnt an issue'', ''dont know how to use uber'' , ''pay me what i want''. ill instantly be drier than a desert, so there will be no rain for you!!
*more than 5ks from my location at any given time incurs uber charges*
*UBER/DRIVER ONLY TO LOCATION, YOU CANNOT PICK ME UP*
*I AM NOT A FAKE, VERIFICATION VIDEOS ATTACHED BELOW*
*IF YOUR JUST DOWN FOR SOME LOW KEY DIRTY TEXTS THERES SOME DOPE CHICKS OUT THERE THAT DO THAT, BUT ITS A NO FROM ME*
*MY LOCATION IS TRACKED AT ALL TIMES, DANGEROUS SITUATIONS WILL NOT BE TAKEN LIGHTLY
Hey gorgeous,
I'm Octavia, I'm a slimmer/curvy (8/10 on top, 12 for my peachy ass!) Blonde/brunette/pink/whatever you fancy British baby who loves to have a good time, dont take me as conceited or rude, im a real British lass, and if it isnt the accent, the big booty its my eyes that will get you everytime!
No need to be shy, I'm easy going and I'll put you at ease, ive worked within the industry for years therefore i have a knack of making you feel at ease. You have specific needs/requirements I'm your girl.
Us pommys have a way of winning you over, may be it's my down to earth Nature or being understanding.
I am genuinely bisexual, i have dated both sexes therefore couple bookings are 100% real, i do not charge extra for a lady to be involved!
(Please ensure that, you and your partner have discussed the booking thoroughly, Arguing/physical violence whilst im there (trust me, its happened) will not be tolerated at any extent, i reserve the right to leave at anytime without refund)
Due to time wasters, I'm taking 10% booking fees. not negotiable, i value my wee life lads.
I appreciate due to the amount of fake girls and scams happening within the industry this can be a daunting thought, but please do appreciate that i have to travel to a location and potentially lose clients over fake or cancelled bookings. $60 to $90 is simply to cover wasted travel costs or loss of bookings./time. This also shows legitimacy of a booking and enables me to believe the call is infact genuine. This secures your booking at an allocated time, nobody can buy your time slot or interfere in anyway. All bookings made in advance (not on the day) are refundable if i am given 24 hours notice prior to the call.
Payment must be instant, due to the fact that bank transfers can be timed and cancelled, i have been duped a few times because of this scam (you live and learn)
Deposit Payment methods include:
Cardless cash (if booking is made in 3+ days in advance)
Pay ID/Osko
On arrival payment in cash or bank transfer.
Pictures of your money saying ''cash waiting'', ''im a nice guy'' ''you can trust me'' ''i wouldn't do that'' is not a valid form of payment im afraid, please understand that ive never met you, and i would be taking unnecessary risk, by doing deposits and using ubers ensures safety and security measures, for both me and you. If your location is 5km from my location at any given time incur uber charges both ways.
Please understand that i am extremely busy taking high volumes of texts, all my services are listed on my page, so there is no need to ring me up and ask, i have wasted many hours of my time answering calls just to have my time wasted because they didnt read my profile! therefore i only speak to clients on the phone after a deposit has been paid. All numbers are screened prior for my own saftey. I dont do small talk im far to busy and need time to myself, i work 7 days a week and need some time away from my phone, so if i dont reply immediately i am not ignoring you
depite the fact this sounds awfully demanding im nothing alike, im british and have a heart of gold (but with armour on ;)
Love OctaviaaaPlease note i am a companion ONLY. ;)
Client types
males, females, couples, disability, respectful, nervous, shy
Services offered by Octaviaaa escort
Affectionate Kissing
BBBJ
Blow Job
COB
COF
Companion
Couples
Cuddling and Affection
Deep Throat
Dinner Date
Disabled Clients
FFM
GFE Girlfriend Experience
Kinky GFE
Kissing
Lesbian
Lingerie Requests
Massage
Multiple Positions
Mutual Masturbation
Oral on Me
Overnight Stays
PSE Porn Star Experience
Rimming on Me
Sex Toys
Shower Together
Social Outings
Squirting
Strip Tease
Travel Companion
Contact Octaviaaa to organise a time to share an experience via:
Octaviaaa escort rates
Outcall
| Session | Cost | Description |
| --- | --- | --- |
| 1 | $600 | Fast and Furious |
| hourly surcharge | $150+1 hour min base | get to know before you errrr..... |
Please contact Octaviaaa - Escort | Adelaide directly to book an appointment.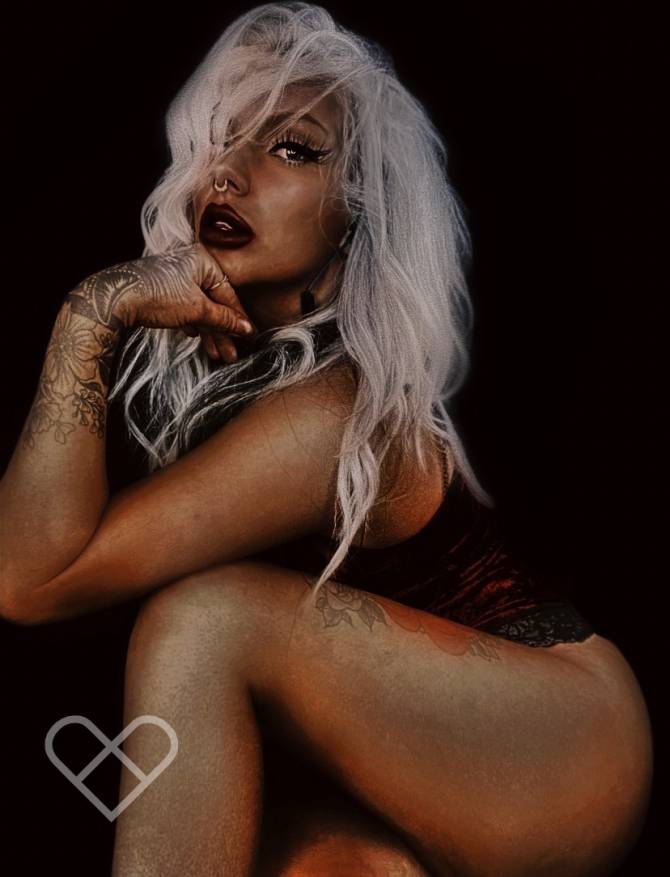 Reviews
Octaviaaa has no reviews at this time.
If you've shared an experience with them why not...
Have you shared an experience with Octaviaaa - Escort | Adelaide? Leave a review.