Contact
Location: Sydney
Email: [email protected]
Phone: 0475 *** ***
As I am not always available to take your call, a text or email to my personal assistant Rose is preferred as a means of first contact. Absolute discretion is assured.
Details
Gender: Male
Height: 183cm
Body type: Athletic
Hair colour: Blonde
Eye colour: Blue
Available by appointment.
Ryan James has not made their availability public.
About Ryan James escort
My name is Ryan James, a male escort based in Sydney and available Australia wide. Courteous, polite and a gentleman at all times, any encounter we have will be truly memorable, leaving you wanting to come back again and again.
There are many reasons why you might wish to see a male escort. Maybe you're looking for some simple companionship or someone to talk to. Maybe you'd like to be accompanied to a social event or taken shopping. Perhaps you've felt like it's been too long since someone has paid attention to you, really paid attention. Someone that will listen to you, make you feel special, like you're the only girl in the room. To be pampered, taken out for a special evening before retiring behind closed doors for more private pursuits. A soft, slow massage with scented oil, a relaxing bath with a glass of champagne, or something more intimate. Let me fulfill all your desires and more.
With a professional background, razor sharp wit and inquisitive mind, you'll want to see me based on more than just looks alone. I believe stimulating conversation is just as important as physical satisfaction.
With a previous career in personal training, I take health and fitness seriously, using this knowledge to keep in the best shape possible. Strong hands, broad shoulders, a well-muscled back and that classic v-shape are just a few of the reasons you will want to see me. Piercing blue eyes often found matched with an impeccably tailored navy suit are just a few of the reasons you'll want to see me.
With a preference for ethically made, female friendly erotica, I am one of Australia's leading male porn performers. An international career throughout Australia and Europe has given me the kind of experience few others can match. Confident yet playful, gentle yet firm, whatever your desires may be, the focus is solely on your pleasure alone.
Far from being one-dimensional, I have a wide variety of interests that means any time we spend together will be far from boring. Whether it's chatting over good food and wine, or letting me help you explore your sexual desires, I'll ensure you leave comfortable, relaxed and fulfilled.
MALE ESCORTS – FREQUENTLY ASKED QUESTIONS
Why would I see a male escort?
There are many reasons you might wish to engage the services of an escort:
For simple companionship, to have someone to listen and talk to.To have someone to accompany you to social functions.To feel like you're desired, with someone paying attention to you and you alone.When dating is not a realistic option, due to career, time or other constraints.To explore a desire or fantasy that you may be unable to fulfil otherwise, for any number of reasons.It may be as simple a reason as you enjoy sex and are liberated enough to enjoy it any way you choose.You might have an upcoming birthday or other party to attend where a topless waiter or stripper just won't cut it.
What should I expect from a male escort?
An escort should be professional, courteous and a gentleman at all times. From your initial contact, whether that be by phone, text or email, to when you part, all his attention should be on you and your needs. Every person is different.
Do you travel?
Yes, I'm based in Sydney and travel regularly to cities such as Melbourne, Brisbane, Perth etc. If you wish to see me outside of a scheduled tour date, please contact my assistant Rose so we can make special arrangements.
What do I say when first contacting a male escort?
It's completely normal to be nervous upon contacting an escort for the first time. A good escort will answer any questions you can think of and even some you don't in order to make you feel comfortable. All you need to do is express an interest in meeting then leave the rest up to me.
How do I get the most out of a booking with a male escort?
If you want to get the most out of seeing an escort there are a few things you can do to ensure you have the best possible experience. Do your research first and decide on an escort that you feel best suits your needs. Feel free to ask questions. Don't be afraid or embarrassed about expressing your desires. There's no such thing as a silly kink or weird fantasy when it comes to consensual sex. Go into your booking with an open mind and you'll leave having had a memorable experience.
Client types
Females; Couples
Touring
| Location | From | Until |
| --- | --- | --- |
| Canberra | December 3rd 2023 | December 4th 2023 |

Services offered by Ryan James escort
Sorry, Ryan James hasn't confirmed any offered experiences.
To check what they're offering please contact them directly.
Ryan James escort rates
Outcall
| Session | Cost | Description |
| --- | --- | --- |
| 1 hours | $300 | Your First Time *Two Hours Recommended |
| First Hour | $600 | Boyfriend Experience |
| Second Hour | $600 | Boyfriend Experience |
| Third Hour | $600 | Boyfriend Experience |
| Lunch Date | $1400 | Lunch Date Special - 3 hours between 12pm - 6pm |
| Dinner Date | $1800 | 4 Hour Dinner Date |
| Dinner Date | $2700 | 6 Hour Dinner Date |
| Overnight | $4000 | 12 hours - Longer at my discretion |
| 24 hours | $6000 | 24 hours - Longer at my discretion |
| 12 hours | $4000 | Additional Days |
| Couples | $700 | 1 Hour Couples Experience *Minimum 2 Hours |
| Filming / Photos | $400 | At my discretion |
I would love nothing more than to spend time away with you for a weekend or longer. However I believe that some personal time will enhance time spent together. As such, my rate for additional days is for twelve hours of my time, four hours personal time and eight hours uninterrupted sleep.
I offer FLY ME TO YOU packages, please enquire with my personal assistant; Rose for rates and travel availability.
All dates require a 30% deposit. This can be paid via bank transfer or cash deposit. Deposits are non-refundable if 48 hours notice is not provided. Rescheduling is an option when 48 hours or more notice of cancellation is given.
Incalls and travel outside a CBD may incur an additional fee.
An international career in adult films means you will be putting yourself in the hands of someone who knows how to get the most out of any encounter.*
*Please note that I offer sexual services to women only.
Please contact Ryan James - Escort | Sydney Escort directly to book an appointment.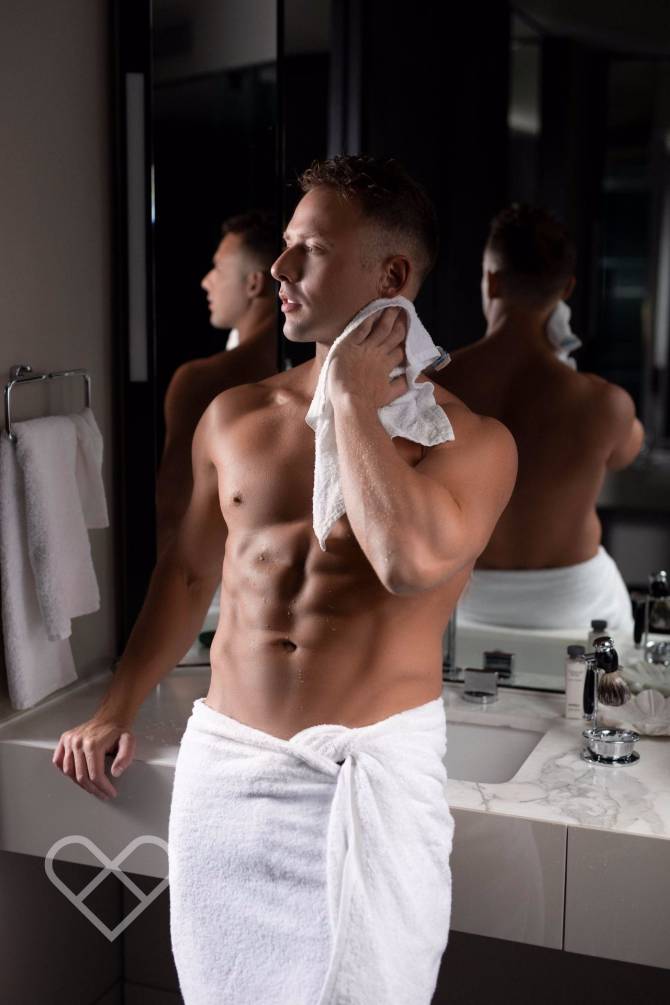 Reviews
Ryan James has no reviews at this time.
If you've shared an experience with them why not...
Have you shared an experience with Ryan James - Escort | Sydney Escort? Leave a review.