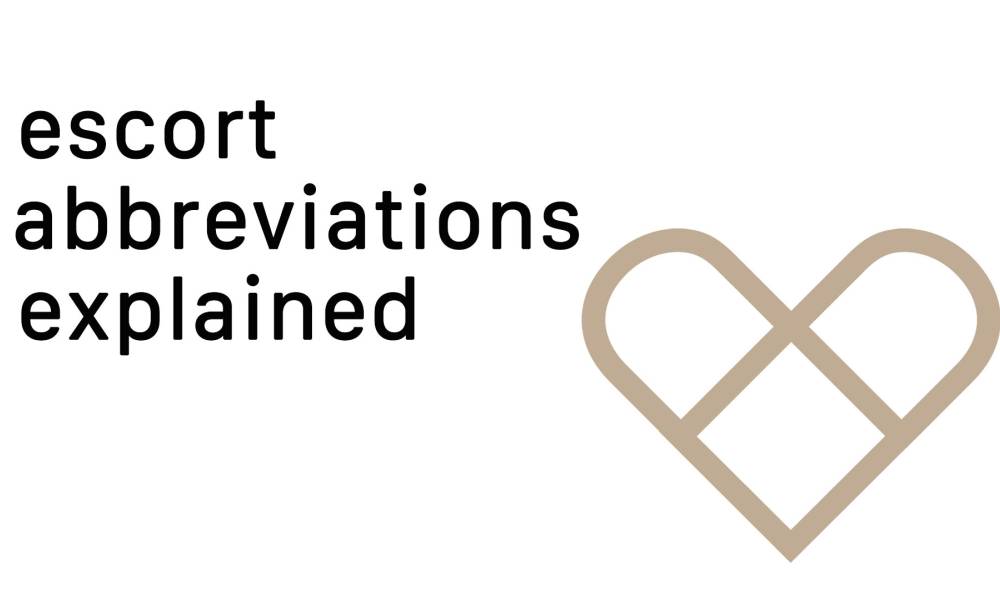 This information is also listed in our community area, along with some resources and etiquette here.
Escort abbreviations and acronyms can often be overwhelming and confusing! They are used in many forms of escort advertising for discretion or just to shorten the service offered.
Often, no services are listen on escort profiles, this may be due to personal preference, discretion and/or State Law. It is important to enquire directly to you escort regarding their services offered.
If an abbreviation isn't listed please contact us to update: [email protected]
COMMON ESCORT abbreviations
Base city escort: Availability is based in a main city (usually city of residence).
Touring escort: Available in the city listed ONLY on the dates listed.
FMTY 'Fly Me To You' : Available to fly to you specifically for a booking, usually for a minimum booking length.
Incall: Client visits escort's place of work.
Outcall: Escort visits clients preferred meeting place.
Services: Actions or experiences the escort provides or does not provide.
Doubles: A booking with two escorts at the same time.
ESCORT SERVICES ABBREVIATIONs
GFE: Girlfriend Experience. A service that is comparable to a 'girlfriend' it may or may not include more close intimacy. It is best to define this individually with your provider.
PSE: Pornstar Experience. A service that is comparable to a 'porn star' it may or may not include more novelty experiences. It is best to define this individually with your provider.
BDSM: Bondage and Discipline (BD), Dominance and Submission (DS), Sadism and Masochism (SM). This is a broad term used to describe a range of experiences that may include; physical restraints, unequal power, discipline or pain. It is best to define these individually with your provider.
BBBJ: Bare Back Blow Job (Oral without a condom).
Anal: Penetrative anal sex.
Anal Play: Usually non-penetrative play anally. It is best to define this individually with your provider.
ATM: Ass To Mouth, an act of an object moving from someone's anus to their mouth.
BBW: Big Beautiful Woman.
BLS: Ball Licking and Sucking.
Body worship: The act of worshipping a part (or the entire) of another persons body.
Bondage: A sexual practice that could involve restraint.
CBJ: Covered Blow Job (Oral with a condom)
CBT: Cock Ball Torture.
CD: Cross Dressing. Pleasure from dressing as the opposite sex.
CIM/ with swallow: Cum In Mouth (with or without swallow).
COB: Cum on Body.
COF: Cum on face.
Companion (social): Available for social dates (without sexual intimacy).
Cougar: An older woman.
Couples: A booking with a couple.
DATY: Dining at the Y (Oral sex on her)
Dental Dam: Thin rubber sheet used as a barrier for oral sex.
Dirty Talk: Erotic talk.
DP: Double Penetration. The act of inserting an object both anally and vaginally.
Fetish: A sexual desire linked to an object or an action (example; foot fetish).
FFM: Female/Female/Male booking.
Filming: The provider allows filming during the booking.
Findom: Financial Domination; A fetish for someone whom desires to be controlled financially.
French: Oral Sex.
FS: Full service (sexual penetration).
Gagging: The act of orally gagging on an object.
Greek: Anal sex
Golden Shower: The act of urinating on someone (water-sports).
Happy ending: An orgasm usually from a massage.
HJ: Hand Job.
Kinky GFE: Kinky Girlfriend Experience
Massage only: Sexual intercourse is not included, massage only.
MILF: An attractive older woman who typically has children.
MMF: Male/Male/Female booking
MSOG: Multiple Shots on Goal (Multiple orgasms during the booking time)
Natural Bush: Having pubic hair.
OWO: Oral without a condom.
Pro-Dom: A professional dominant who engages in BDSM play with a submissive.
Pro-Sub: A professional submissive who engages in BDSM play with a dominant.
Rimming: Using a tongue or mouth to stimulate someone's anus.
Snowballing: Orally swapping semen from one persons mouth to another.
Spanish: Stimulating a penis between a woman's breasts.
Spanking: The act of slapping (usually the buttocks) for sexual gratification.
Squirting: Female ejaculation.
Strap-on: A dildo worn with a harness.
Strip tease: A slow and sensual undress.
Water-sports: Sexual activity involving urination.
If there are any further escort abbreviations you are unsure of, be sure to ask your provider and they can elaborate. Please keep in mind every escort will provide a different service. Don't assume all abbreviations hold entirely the same meaning for every provider. It's always best to ask the question!